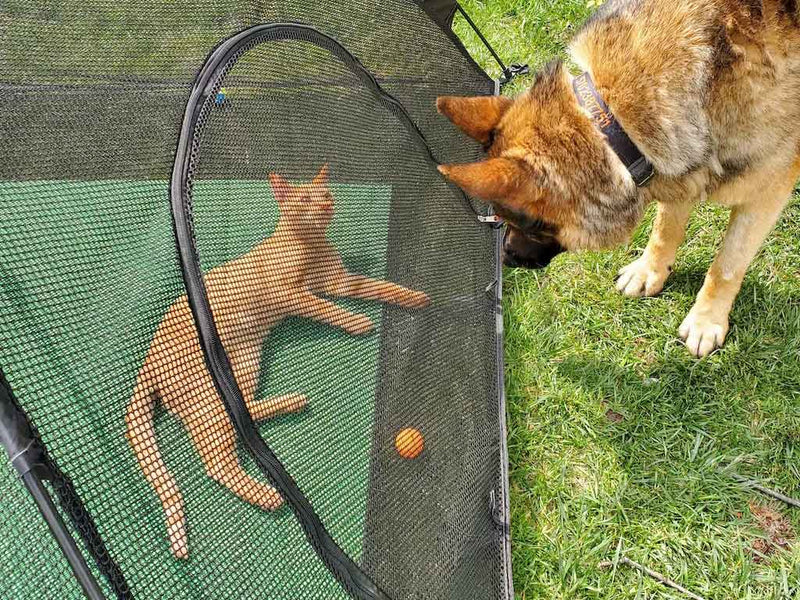 Cats are popular pets in the US, with over45 million families having one or more cats. Cat parents are eager to help their pets lead a happy and healthy lifestyle, taking proactive measures to provide them with outdoor exercise. One of the best ways to help your feline friends is to invest in an outdoor cat enclosure. Enclosures like cat pens and tents can be perfect for stimulation and entertainment, ensuring long-term benefits for feline well-being. An outdoorcat tent can help your pet enjoy the beauty of the outdoors without risking their safety. You can invest in a high-quality tent to transform your feline friend's outdoor experience. Let's discuss everything you need to know about buying this innovative solution to entertain your pets.
Outdoor Cat Tent: What Is It?
Acat tentis a portable enclosure to keep your cat safe while they enjoy the outdoor views. It is an easy-to-set-up structure with a transparent or semi-transparent design to allow your pet to look at the scenery. This cat enclosure has ample space for the cats to play, allowing them to experience the outdoors without stepping out of their safety net. 
Advantages of Cat Tents
An outdoor cat tent helps your feline friends enjoy the following benefits:
Stimulating the Senses

: Cats often get bored when they stay indoors for a long time. Allowing them to play inside a tent can stimulate their senses by offering a change of scenery. They can walk around on the grass while staying safe within a secure tent. 
Alleviates Anxiety and Stress

: Cats may experience anxiety and stress when stuck indoors. Bringing them outside and providing an innovative play experience can minimize their anxiety and improve their mental well-being. 
Protects Your Pet

: When cats play outdoors, they may face attacks from predators or run into other safety hazards. A cat tent can safeguard them from these risks and keep them out of harm's way.
Tips to Choose the Perfect Cat Tent
You should choose a high-quality cat tent to arrange quality playtime for your pets. The following tips can guide you:
Go for a Durable Product

: Cats love to scratch and play with any material they find. That is why it is crucial to invest in a durable cat tent so your pet cannot tear it or make holes in it. A durable product will ensure your cat's safety for a long time.
Check the Breathability

: The outdoor tent must be breathable and airy to ensure your pet remains happy and comfortable. A high-quality mesh tent can be an excellent choice for a congenial play environment.
Look for Easy-to-Install Tents

: Portable, lightweight, and easy-to-install tents are convenient for cat parents. You should explore cat tents one can set up in less than a minute for a quick and easy experience.
Shop from a Trusted Company

: You should buy your pet products from a reliable company that offers top-notch customer service. A trusted company will help you resolve your queries and concerns while installing and using the pet products.
You can explore the complete range of cat fences, enclosures, and accessories on thePurrfect Fence website. Check out their high-quality products likeoutdoor cat perches,catios, and more to help your feline friend have a great time!